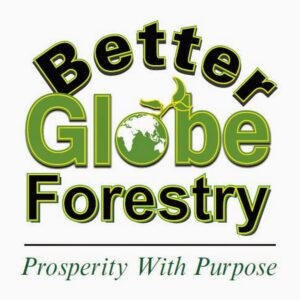 Better Globe Forestry Ltd (BGF) was incorporated in Kenya in 2004. Its vision is to plant as many trees as there
are human beings on the planet over the three to four decades to come while its mission is to make Africa a
greener, healthier and wealthier place in which to live, by focusing on the development of profitable, commercial
tree plantations that will deliver environmental as well as humanitarian benefits. Focus is on the planting of Melia
volkensii (mukau) for the tree's high-quality timber, which will be used to produce superior finished products
locally.
The vision of BGF is to eradicate poverty in Africa and care for the environment, by planting as many trees as
there are people on the planet.
Our mission is to develop a holistic, sustainable and commercial forestry enterprise by involving people from all
over the world to support our work in Africa because;
• We realize that planting trees is caring about people and the environment
• We create wealth for local people, among them a significant percentage of women
• We improve rural livelihoods through assistance to Partner-farmers with agroforestry, microfinance,
education and water supply
• We work in semi-arid land, not suitable for agriculture production, where we make the biggest difference
for the communities, with our agro-ecology model
• We will create massive employment by processing and exporting African wood products.